shape concern bank jatim kediri-madison regional coordinator of the disaster kelud
Date: 20 february 2014
Categories : All News, All News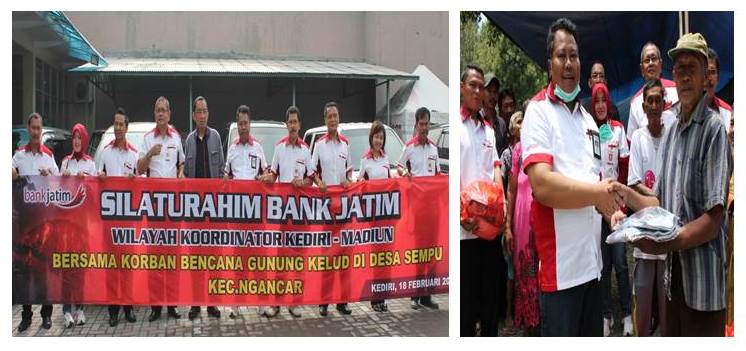 Kediri - Disaster Kelud eruption some time ago to seize the attention to the impact of volcanic ash that covered almost half of the area of East Java and Central Java. Deritapun increasingly large as the surrounding communities are also affected by the eruption of Kelud directly.
As the Peoples Bank Jatim, East Java Bank cares for the suffering of the victims of the disaster Kelud eruption. Located in the hamlet source Petung (2 RT) Sempu Village Ngancar Kediri sub district (18/2), Bank Jatim Kediri Coordinator-Madison region (consisting of Kediri, Pare, Nganjuk, Psychology, Ngawi, Ponorogo, Jombang, Blitar, Tulungagung, Madiun, Magetan, and Pacitan) held a friendship with Kelud disaster victims.
Bank Jatim Kediri Branch Manager John Smith, coordinator of the event, said the event is a concern friendship Bank Jatim to the pain experienced by the people of Disaster Kelud.
"We quite understand the suffering of the victims of this disaster Kelud, therefore the region notably Bank Jatim Kediri-Madison coordinator felt compelled to ease the burden of care to victims of disasters suffered by organizing events and giving friendship rocks directly," said Budi.
The direct aid given to the victims of the Bank Jatim Kelud is 200 lunch boxes, 150 food packages, 300 blankets, toiletries 150, and 150 mineral water. The aid is distributed directly to the source Petung 200 Hamlet Village Sempu Ngancar Kediri sub district, which is in dire need of help because of volcanic ash directly affected Kelud.
Bank Jatim hoped that the response efforts and care for the victims of this disaster Kelud, at least be able to provide the benefits and ease the suffering they experienced and able to establish a good bond of friendship between the Bank Jatim as a company with the surrounding community. (stamp)