first quarter 2014 bank jatim performance achievement shows significant growth
Date: 28 april 2014
Categories : All News, All News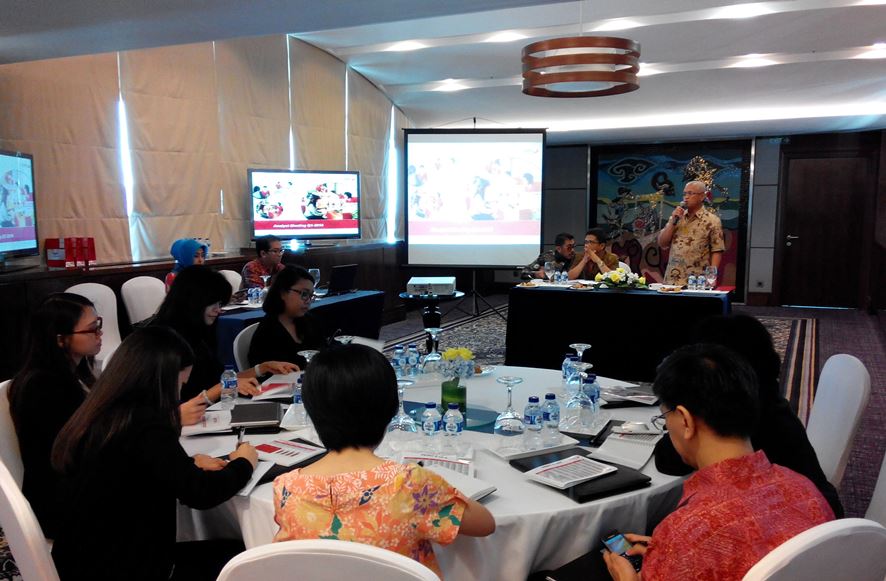 Until the beginning of first quarter of 2014, Bank Jatim continues to perform continues to grow significantly. This is evident from the profit before tax of the Company which successfully recorded at Rp 426,565 million, an increase of 41.75% over the same period the previous year (YoY).

Besides a significant increase in profit growth, Bank Jatim other financial indicators in the first quarter of 2014 also shows good performance. Such as total assets rose to Rp35.464.167 million, up 8.86% (YoY), it is influenced from Bank Jatim's ability to collect the Third Party Funds (TPF) which rose high at Rp28.204.524 million, or an increase 10.00% (YoY).

In terms of bank lending Java capable posted by Rp22.683.940 million, or an increase of 20.62% (YoY), the growth of the loan portfolio resulted in a higher the interest income earned by the Bank Jatim Rp930.967 million, or an increase 29.28% (YOY), thus directly impact the growth of operating profit into Rp419.036 million, or an increase of 40.25% (YOY), and Net Income of Rp312.195 million, or an increase of 43.09% (YOY).

Director of Bank Jatim Hadi Sukrianto in the exposure of Financial Results in Jakarta (25/4) said, good performance is continuously recorded until the Bank Jatim in the first quarter of 2014 the Bank Jatim made ​​increasingly optimistic to reach the target until the end of the year.

"Bank Jatim continues to improve its performance as good as possible, successful achievement recorded in the first quarter of 2014 is an encouragement for us to continue to improve performance in line BPD mission became Regional Champion at the end of this year," said Hadi.

Optimism conveyed by the management, would be supported by a variety of other supporting factors that can be achieved with either. Such as the addition of an office network, product and service development, to implementation of the business plan properly.

Until March 2014 the Bank has a network of offices in East Java in 1089 as service points consisting of one Head Office, 42 Branch Offices, Branch 129, 160 Cash Office, Office 47 Sharia services, 154 payment points, 59 Cash Car, Car 6 ATMs, 490 ATM, CDM 1.

In an effort to continue to perform better as entering the year 2014, Bank Jatim has featured the Business Plan in order to achieve its mission to be BPD Regional Champion in 2014. Among increase the number of network operations, focusing on SMEs by developing a micro unit of Bank Jatim, as well as the development of IT-based products and services are more diverse to provide the best service to customers.

"Bank Jatim Business Plan is being executed in 2014 this brings us confidence to continue to provide the best performance in the future. In addition to continuing to increase the number of network and focus on the SME segment after the micro units, the development of banking products and services that superfine also been our focus to meet into BPD Regional Champion, "said Hadi Sukrianto, Director of Bank Jatim.
The Bank Jatim product development in 2014 include 3366 SMS Banking Bank Jatim, East Java Card Flazz Bank and Bank Jatim Internet Banking, Priority Banking, Host to Host and so forth. (pr/med)