CSR bank jatim branch malang assistance repair rtlh for of malang people
Date: 10 december 2012
Categories : CSR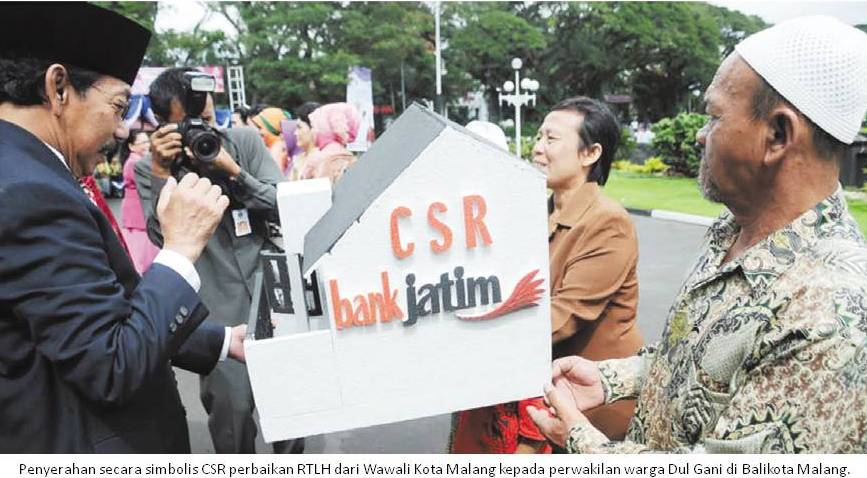 Program Corporate Social Responsibility (CSR) is at once be an inspiration for banks and other companies in the city of Malang. Symbolically RTLH improvement grants submitted Leader Field Operations (PBO) Soviati to Vice Mayor Bambang Priyo Utomo after Mother's Day memorial ceremony and Archipelago Day 2012 in front of the City Hall in Malang (10/12).

Then handed over to the representatives of the people whose homes were repaired. Bank Jatim in this program collaboration with the Department of Public Works, Housing and Building Control of Malang who oversaw its construction. Told Soviati, Bank Jatim in the social program is budgeted cost of Rp150 million to repair 30 units that houses homes uninhabitable condition or damaged. "This year Bank Jatim Branch Malang provide financial assistance for the repair RTLH belonging to the less fortunate as much as 30 units. We only provide any financial assistance to the Government of Malang Rp 150 million, "he said.
Furthermore, Head of Housing and Public Works Department of Spatial Planning, Housing and Building Supervisor Ir. H Ade Herwanto MT explained, houses to be repaired by the Bank Jatim's CSR program spread across different regions. That is in the Village Buring 5 houses, 1 house Lama kota Urban Village, Village Penanggungan 1 house
and Village Tunjungrejo 23 homes.

"Improvements RTLH  Bank CSR program with the City Government of Malang, Jatim synergy is very beneficial to the community. This program can be an inspiration for Help to Repair RTL H Residents Malang. CSR BANK JATIM BRANCH MALANG banks and other private companies. Because it is so touching people directly,'' said Ade. Ade explained further, CSR Bank Jatim synergized with stimulants Facilities Governmental Assistance program (BSPS).
The target population is the home uninhabitable belonging to low-income people (MBR) in the slums. Assistance is a stimulant in order to stimulate self-help and community participation. So that values ??community togetherness, and participation can be realized. "The values ??and the spirit of mutual cooperation in the implementation of this program grows, so has a lot of benefits,'' explained Ade. BSPS, he added, is a program that adopts the Ministry of Housing and the program is tailored to the needs on the ground is suitable for the typical of Malang. Residents who receive home repair assistance and expressed his grateful thanks to the Bank Jatim. One is Dul Gani one citizen Jl. Ir. Rais Gang 5 Tunjungrejo Urban Village, District Sukun. The house was occupied for decades urgency is outdated and leaky when exposed to rain. "Now that was replaced with a better one is not leaking anymore,'' he said.
Meanwhile, a survey Public Works Department, Housing and Building Control of Malang, there are 1,500 homes uninhabitable. However, the priority and the existing technical planning as much as 550 units. So it still as much as 520 housing units that must be dissected. * ary