beginning in 2014, the bank jatim opens branch office in east java kediri, and 20 sub-branches
Date: 20 january 2014
Categories : All News, All News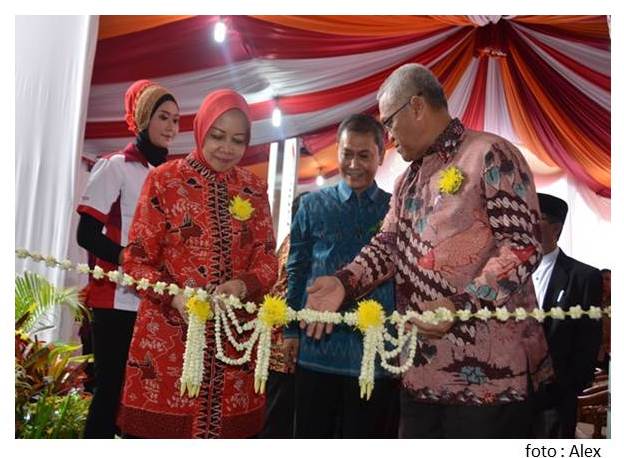 Efforts to continue to improve in order to be closer to the community continue to be improved by the Bank Jatim. Entering 2014, Bank Jatim immediately spread its wings by adding new operational network in the region by opening Kediri Branch Office in a region dubbed the city know.
Located on Jl. Diponegoro No.. 50 B Kediri, East Java Hadi Director of the Bank inaugurated the direct Sukrianto Kediri Branch Office which was attended also by the Regent Kediri, Kediri Mayor and representatives of the Indonesian Bank, FSA and other local officials in the region of Kediri.
Hadi in his speech expressed his gratitude for all the support and trust given to the people so that Bank Bank Jatim East Java town of Kediri Branch Sharia present.
Furthermore Hadi added, opening Bank Syariah Branch Office in East Java Kediri region as a manifestation of this is to continue to provide services that best fit the needs of the community. "The growth of the Islamic banking industry today continues to show a positive chart because of the high public interest, as His bank Bank Jatim East Java people want to continue to exist and close to the community by providing a variety of banking services that suit the needs of the community, one of which is to open this Islamic banking services . "Said Hadi.
With the opening of Branch Office in the Kediri region, the total operational network of business units totaling 2 Java shariah Shariah Branch, Branch 3 Sharia, and Sharia Services Office 47 / Office Channeling.
As for the Business Plan in the year 2014 according to Hadi Sukrianto Java Bank plans to open branch Sharia 3, and 5 new Sharia Branch in order to prepare to become a Commercial Bank. "Gradually Bank Jatim will continue to improve both of sharia in quality and quantity, in order to prepare Sharia Bank Jatim into Islamic Banks as outlined in the Blueprint and Roadmap spin-off in 2017," said Hadi.
In addition to formalizing Kediri Branch Office, then on the same also held the inauguration of 20 (twenty) new Branch Office received an increase in the status of Treasury's Office into Branch office. The twenty-KCP include KCP Wholesale Center Surabaya, Tenggilis KCP, KCP Wongsorejo, Glenmore KCP, KCP Dampit, KCP Turen, Jiwan KCP, KCP Unmer, Padangan KCP, KCP Dringu, Kademangan KCP, KCP Campurdarat, Bancar KCP, KCP Pulung , KCP Punung, Arjosari KCP, KCP Nguling, Blega KCP, KCP Maesan, and KCP Wonosari.
"Improvement of the status of Treasury's Office into the Branch Office in addition to improving services for the better Bank Jatim, is also expected to assist the achievement of the business targets that have been set," please Hadi. (stamp)