become a host at edu expo events, bank jatim succeed indonesian financial literacy
Date: 25 april 2014
Categories : All News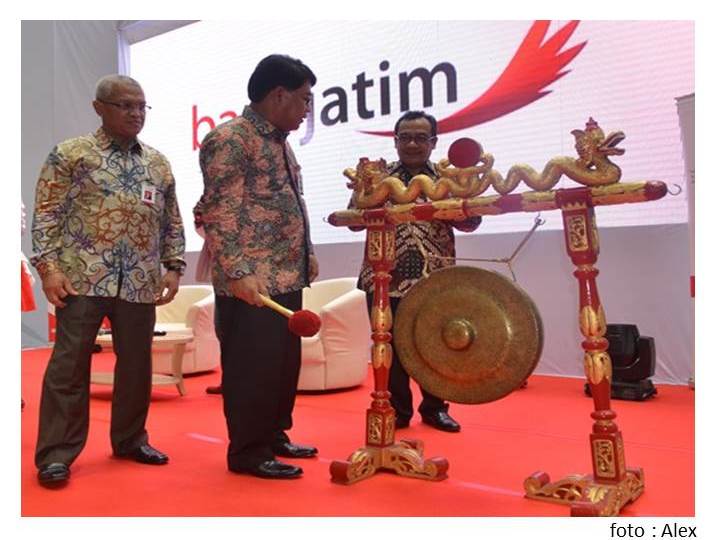 Bank Jatim again trusted as a partner of the Financial Services Authority (FSA) in the conduct of Financial Literacy to the people of Indonesia, especially East Java and beyond. After successfully implementing a financial literacy event in a variety of areas such as Surabaya, Sidoarjo and Malang some time ago, this time Bank Jatim as a host trusted by the FSA in the conduct of financial literacy and financial institutions other joint exhibition held in the Atrium Pakuwon Supermall Surabaya (24 / 4). The event was attended by the Board of Directors of Bank Jatim, FSA, Bank Indonesia and the Bureau of Economic Affairs and the Government of East Java Indonesia Stock Exchange followed, Indonesian Financial Services Association, the Association of Indonesian Life Insurance Association of Pension Funds, PT Pawn and Perbarindo. 
The move by the Bank Jatim as support for financial literacy efforts being carried out by the FSA so that people understand financial products such as banking, insurance, capital market instruments and so on. As we know, financial literacy efforts have been pursued by the FSA to the community since the launch of the blueprint in November 19, 2013. Low level of financial literacy of Indonesian society lower the impact on the level of use of financial services in Indonesia by the community. Therefore it is the primary consideration FSA to educate and provide protection to consumers. Appreciation to the Bank Jatim delivered by Irwan Lubis, Deputy Commissioner of Banking Supervision III FSA that the Bank Jatim is always ready to fully participate in financial literacy conducted FSA. 
Director of Bank Jatim Sukrianto Hadi said, Bank Jatim warmly welcome the appointment of Bank Jatim as the host organizers dirangkaian financial literacy program being carried out by the FSA. "Thank you for the trust given by the FSA to the Bank Jatim became host in this event. As a financial institution, Bank Jatim has the responsibility for the success of financial literacy programs to the community to have a deep understanding of financial products, "said Hadi. 
Hadi adding further with this program is expected to support the development of the financial services sector in East Java. "As a financial institution that originated in East Java, East Java Bank is expected to contribute and develop the Indonesian economy to educate the public in order to utilize the services of financial institutions that have an impact to improve the welfare of the nation," please Hadi. 
To optimize the financial literacy efforts to the public, the event was also attended by experts Financial Planner Ir. Benny Santoso, Mcom, CFP, QWP as a speaker in a seminar open to the public, and is also celebrated by supporters of the band and giving doorprizes as entertainment for visitors. In addition to being hosts exhibitions with other financial institutions in the Atrium Pakuwon Supermall Surabaya, East Java Bank also conducted a workshop for people who are represented by the Sharia Division Leader Avantiono Hadianto held at Hotel Sheraton Surabaya (22/4). According Avantiono addition to educating the public to the conventional financial products, it is also important for people to know and financial planning sharia principle. (cap)