Bank Maluku holds comparative study in risk management at the Bank Jatim
Date: 18 june 2014
Categories : All News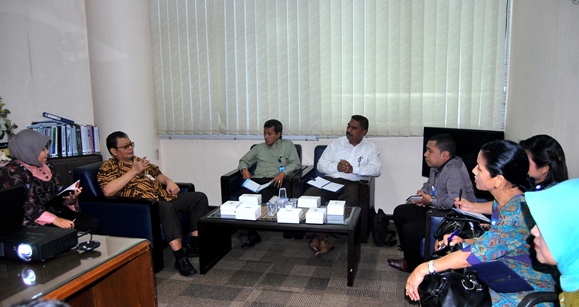 Bank Jatim again received a visit from a fellow comparative study of Regional Development Bank (BPD) on Risk Management Profile. After some time ago received a visit from the Bank NTT, Maluku Bank's turn this time to do a similar visit to the Bank Jatim, (16-18 / 6).

Led by Pierre Mahulete as Bank Risk Management Kasubdiv Maluku, the comparative study team made ​​a visit to the Central Bank Jatim Jl. Surabaya Basuki Rahmat 98-104 with the intent and purpose as an effort to review the implementation of the risk management of the Bank.

"The Bank of Maluku is conducting a review of the implementation effort Risk Management Bank in accordance Perautaran Bank Indonesia No. PBI 13/23 / PBI / 2011, therefore it would need to dig up information on the subject one of them through a comparative study that we are doing this, "said Pierre.

The event was opened by the Chief Sub-Division of Operational Risk Management Bank Jatim General Basuki day was focused to discuss the framework for report creation and risk profile of the Bank, as well as the implementation / application of the Bank risk management practices.

According to Agung, Jatim Bank welcomes the intent and purpose of the Bank Maluku conduct a comparative study on risk management, the same as previously expected given the information that can be helpful. "Bank Jatim is always open and welcomes any comparative studies that come visit, especially in terms of risk management is indeed a very important thing for the Bank, after Bank now Bank Maluku NTT also do similar things. Hopefully the information we provide can be beneficial to all parties, "said Agung.
(pr/med)