bank jatim in patnership with BCA launch bank jatim flazz card
Date: 22 april 2014
Categories : All News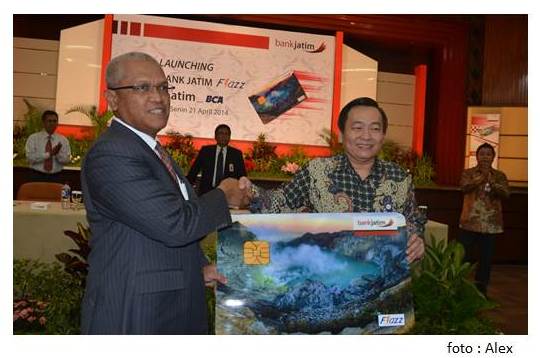 Bank Jatim continues to demonstrate a serious step in the development of product and service excellence, as well as demand-oriented transactions provide convenience for customers. In cooperation with Bank BCA, located at the 5th floor room Bromo in East Java Bank Head Office Jl. Surabaya Basuki Rahmat 98-104 (21/4), Bank Jatim card product launches Flazz Bank Jatim. 
Bank Jatim Card Flazz is a form of cooperation between the Bank and Co-branding with BCA Java as the publisher in order to support the recommendation of Bank Indonesia for the implementation of non-cash payment system (cashless) in the community. Bank Jatim Card Flazz an Electronic Money (Electronic Money) which can be one of the non-cash means of payment (cashless) in all outlets or merchants that provide tools Flazz card. 
Director of Bank Jatim Sukrianto Hadi said, to be able to win the market, as the Commercial Bank Bank Jatim is constantly innovating banking service that is able to easily access fast, instant, and flexible to customers or the public in general. 
"Bank Jatim have to be ready to compete with other banks in the development of products and the development of other services. While the development and advancement of technology is so fast, requiring banks to respond to the needs of communities with innovative products and services based e-Banking / e-Money card like this Flazz Bank Jatim, "said Hadi.
With the establishment of Co-branding partnership between Bank Jatim Flazz with the BCA, it can directly benefit such as improving image of Bank Jatim Bank in improving services to the Customer, Launch Flazz Bank Jatim Card is done without having to build new infrastructure for using the infrastructure already available from the BCA, and can increase revenue through fee based income. 
Bank Jatim Flazz card can be owned by customers or non-customers through Customer Service at Branch Office Surabaya East Java Main Branch, Branch Dr. Atopic Dermatitis, Silver Branch, Branch HR Mohammed, Branch Gresik, Sidoarjo Branch, Branch Malang, Jakarta Branch, Branch Surabaya Sharia, as well as 37 sub-branches in Surabaya, Gresik, Surabaya, Malang, and Greater Jakarta at Rp. 25,000.00 and the minimum recharge / Top-Up of 50,000, 1,000,000 and maximum 00, 00 which can be made ​​in cash through Customer Service Bank Jatim or can through EDC BCA. 
Given its function as legal tender that is instant and fast as its slogan is "Tap and Go". Bank cards are expected to launch Java Flazz getting the benefit and convenience of the service to customers or the public at large while the more complex needs of the community banking service excellence. 
By using the image as a background of Mount Ijen crater that card is one of the icons of East Java, this represents that the Bank Jatim is its Community Bank Jatim, with the progress or innovation made by the Bank Jatim, Bank Jatim East Java always carry identity to be introduced wider. This is in line with the ideals of Bank Jatim who want to be BPD Regional Champion in 2014. (pr/med)