Bank Jatim and the Ciputra of University Signed MoU Cooperation in the Field of Entrepreneurship
Date: 12 december 2014
Categories :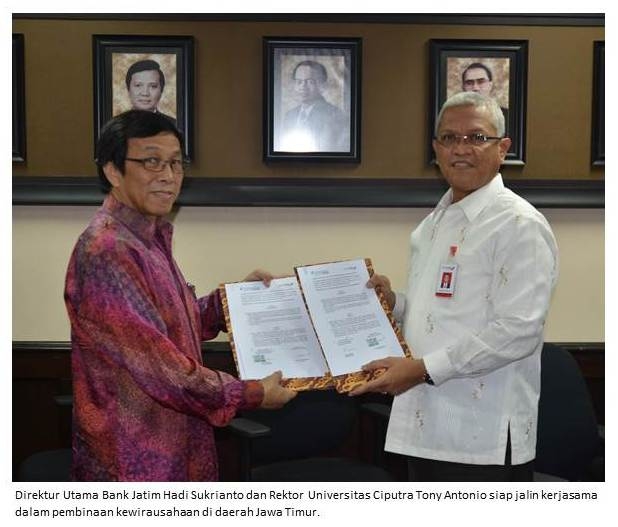 As one of the biggest contributors to labor for other countries, Indonesia has always had its own problems in the management of labor. With the current conditions in the country where labor absorption is not proportional to the amount of labor force makes the delivery of Indonesian Workers (TKI) out of the country is the best solution for the moment.
However, sending migrant workers from various regions in Indonesia is actually giving dilemma for this country because increasing diversity of the problems posed.
Based on the consideration, on Thursday (11/12) bankjatim and Ciputra University establish cooperation agreement by signing a Memorandum of Understanding (MoU) concerning entrepreneurship to TKI / BMI (Indonesian Migrant Workers) and SMEs in general in the province of East Java.
This cooperation is more emphasizes on entrepreneurship development for Indonesian migrant workers / BMI derived from regions of East Java either still active or former, in order to have the ability to self-employment so that they can produce new job opportunities in their own country.
As BNP2TKI data recorded in the period January to 30 November 2014, the number of migrant workers from East Java who work abroad has reached 71 452 people, The amount put East Java is in the Top 3 after West Java and Central Java as a regional distributor of Indonesian workers to the abroad.
High number of migrants from East Java who work abroad and with concern for the fate and future of TKI / BMI that is what the background of cooperation between bankjatim and Ciputra University intertwined.
According to the President Director of bank jatim Hadi Sukrianto seriousness Ciputra University so far in providing guidance and training entrepreneurs to TKI / BMI in Hong Kong, Malaysia, and Taiwan so managed to become successful entrepreneurs in their own country is in accordance with the vision and mission of bankjatim as Regional Development Bank.
"We see the steps that have been taken by Ciputra University is something that should be appreciated and developed, because this step in turn can improve welfare of the community and local economy, it is very in line with the vision and mission bankjatim as regional development banks are also encouraging local economic growth and helping to develop small and medium enterprises, "Obviously Hadi Sukrianto.
Besides, with the efforts of the East Java Provincial Government for the welfare of the fate of migrant workers / BMI from East Java with various coaching programs by way of cooperating with various educational institutions, financial, and other social institutions make the cooperation is increasingly getting attention.
For the initial stage, Banyuwangi chosen as a pilot project in implementing the cooperation programs. This is based on Banyuwangi local government commitment to build centers of economic and tourism industry with embracing many people, including former migrant worker / BMI in Banyuwangi to be able to play an active role in the success of the program.
Based on data collected in Banyuwangi is currently there are at least 5,000 people had former TKI / BMI may be given the opportunity to become an entrepreneur, the target 10% of the total will be able to be educated and guided through entrepreneurial cooperation that has existed between bankjatim and Ciputra University.
This cooperation programs hopefully will be able to grow new economic centers in the area of East Java both in the sector micro, small or medium others so it can be encourage local economic growth and create new job opportunities for the Indonesian labor force, thereby can minimize the number of TKI / BMI work abroad each year. (cap)