bank jatim accept visits secretary general house of representatives in the context of the implementation monitoring ite law
Date: 25 february 2014
Categories : All News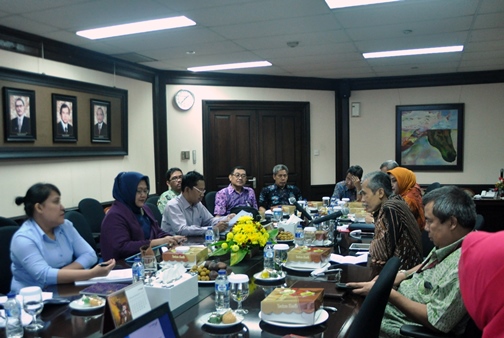 While the increasing electronic transactions at each joint lives of the people of Indonesia, Law No. 11 of 2008 on Information and Electronic Transactions (ITE Law) becomes the basic setup and control.
Bank Jatim as the bank implements its fundamental factor based electronic commerce can not be separated from the role of information technology in their role as intermediary is obliged to apply the EIT Law.
In order to monitor the implementation of the EIT Law, Tuesday (25/02), Secretary General of the Indonesian People's Representative Council (DPR Secretary General) to the Bank Jatim, among others, to collect data and information regarding the application of the ITE Law on Bank Jatim.
Represented by the Director of Operations Antono Eko Bank Jatim, and some of the related division in charge, explaining that the Bank Jatim in implementing activities related to information and electronic transactions have implemented and in accordance with the EIT Law and other applicable regulations.
EIT Law Implementation in Java Bank in accordance with the principles and objectives of the ITE Law can be proved, among others, Bank Jatim has had Implementation Guidelines for Information Technology Risk Management accommodates Bank Indonesia Regulation on the implementation of Risk Management in the use of Information Technology By Commercial Banks.
Besides, Bank Jatim also has the Account Opening Form containing standard provisions and principles of Know Your Customer, Bank Jatim can choose according to the information technology needs of the Bank, and the Bank Jatim has been poured on confidentiality clauses in any agreement Bank data held by third parties.
"Implementation of the Law on the Bank Jatim, especially ITE in accordance with the principles and purposes of the Act ITE. Form of oversight of the implementation of the provisions in the Law on the Bank conducted by the Internal Audit and External Audit, the Government in this regard CPC, FSA and others and the community. "Said Eko Antono. (cs)