Simpeda Saving Drawing Bank Jatim 2015 Entertained People in Probolinggo
Date: 16 november 2015
Categories : All News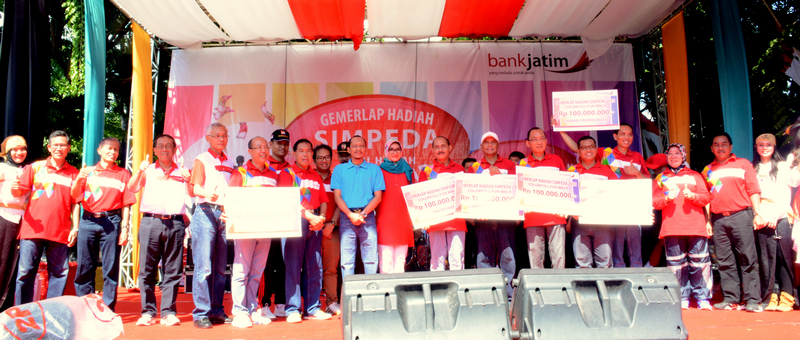 The drawing events for Simpeda Saving Bank Jatim 2015 continued. Previously held in 4 cities (Pasuruan, Nganjuk, Madiun, and Batu), next drawing took place in Probolinggo to cover bankjatimbranch Banyuwangi, Jember, Probolinggo, Kraksaan, Situbondo, and Bondowoso.
The event incorporated "jalan sehat", music performances, doorprizes, and other activities to attract and entertain customers and local people and 5 Directors of Bank Jatim were also present. Similar events will be held in other cities too and the grand event will be held in Surabaya at Dyandra Convention Center (27/11) with guest star Yuni Shara.
President Director R. Soeroso said that by having Tabungan Simpeda Bank Jatim, customers are eligible to double their chances to be enrolled in the drawings twice a year by saving and increasing their saving values in Bank Jatim.
WINNER OF SIMPEDA SAVING BANK JATIM REGIONAL PROBOLINGGO 14 NOVEMBER 2015

BRANCH

NAME

PRIZE

Banyuwangi

MACHMUD

Rp100 Juta

PURWANINGSIH

Rp50 Juta

Jember

SOEJONO

Rp100 Juta

ADITYA WISNU GIRINDRA

Rp50 Juta

Probolinggo

ARIEF RAKHMAN

Rp100 Juta

RETNA WAHYUNINGSIH

Rp50 Juta

Kraksaan

SPP UPK KECAMATAN GENDING

Rp100 Juta

HARIYOKO

Rp50 Juta

Situbondo

SUNJOTO

Rp100 Juta

A FATHEY BASRAWIE/BENDAHARA

Rp50 Juta

Bondowoso

SPP PNPM KEC TAMANAN

Rp100 Juta

KPRI SERBA USAHA (SOEGIJONO B)

Rp50 Juta