Services of Bank Jatim Syariah Reach Santri City
Date: 20 march 2018
Categories :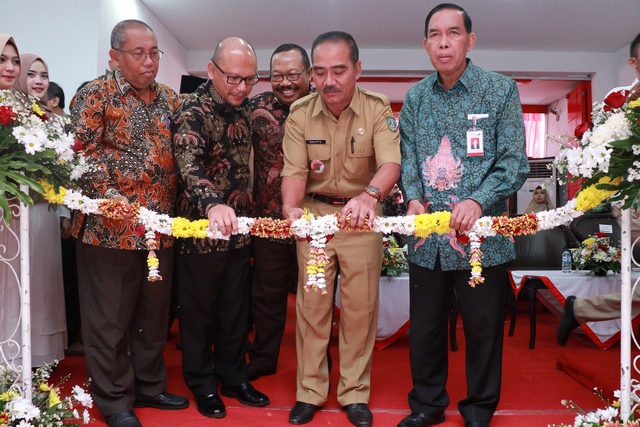 PT Bank Pembangunan Daerah Jawa Timur Tbk (bankjatim) expanded its wings through the Sharia Business Unit, this time at Jalan KH. Wachid Hasyim, Jombang Regency, was officially opened by the Bank Branch of Jatim Syariah (Capem) in Jombang.

This inauguration was marked by ribbon cutting by the Development Economic Assistant of the Jombang Regional Secretariat Ir. Sucipto, M.Sc and accompanied by the Managing Director of bankjatim R. Soeroso.

Also present at the opening ceremony of this sharia service were Representatives of Otoritas Jasa Keuangan Regional IV Mr Kuswandono and Representative of the Surabaya Bank Indonesia Office Mr. Herawanto.

In his remarks, the Managing Director of Bankjatim said that the opening of the Bank Jatim Syariah Office in Jombang district was to facilitate the needs of the community, especially Jombang City, better known as the City of Santri. "The presence of Bank Jatim Syariah in Jombang is expected to be an alternative and banking product solution as well as increasing public access to Islamic banking services". added R. Soeroso.

The readiness of the Jombang Sharia Branch is evidenced by the opening of an account directly by the bankjatim officer to the Economic Development Assistant of the Jombang Regional Secretariat Ir. Sucipto.

For the needs of sharia banking services, bankjatim Syariah has a variety of products including: Barokah Savings, IB Umroh Savings, Amanah Hajj Savings, Sharia Multipurpose Loans, Sharia Pawn Gold, and Maqbula IB Umrah Expenses.