Glowing Night Walk, The Excitement of Gemerlap Hadian Undian Simpeda Continues in Blitar City
Date: 06 november 2017
Categories :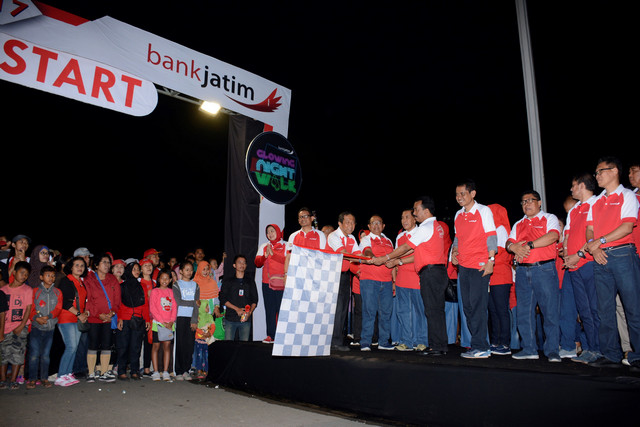 Gemerlap hadiah undian Simpeda PT Bank Pembangunan Daerah Jawa Timur Tbk (bankjatim) was held again, this time it was the turn of Blitar City to host the bankjatim simpeda savings draw for Malang, Kepanjen, Pare, Batu, Mojokerto, Kediri, and Blitar branches.
Terselenggara di Alun-alun Kota Blitar, kemeriahan pengundian simpeda disaksikan secara langsung beberapa pejabat seperti Walikota Blitar Muhammad Samanhudi Anwar, Bupati Kabupaten Blitar H. Rijanto serta pejabat Forum Koordinasi Pimpinan Daerah (Forkopimda) setempat.
Kegiatan diawali dengan jalan sehat malam bertemakan "Glowing Night Walk". Jalan sehat yang diberangkatkan langsung oleh Direktur Utama bankjatim R. Soeroso ini diikuti oleh ribuan masyarakat serta karyawan/ti bankjatim yang hadir.
Kemeriahan pun berlanjut ketika Direksi bankjatim serta pejabat Forkopimda setempat melepas ratusan balon sejenak sebelum pengundian  dilakukan.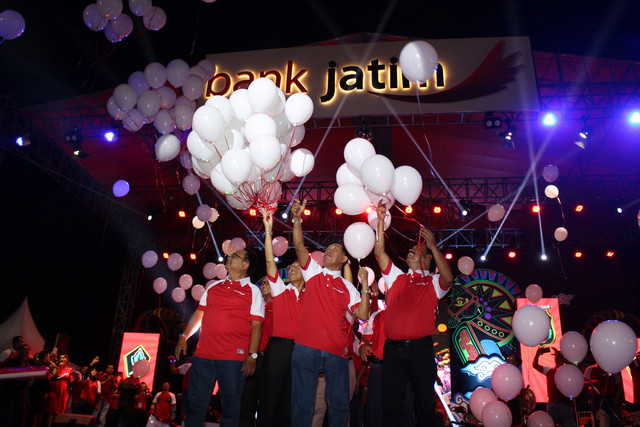 Keindahan langit Kota Blitar tak terbantahkan seiring gemerlap warna warni lampu LED yang terpasang di setiap balon.
Pengundian hadiah dilakukan secara bergantian oleh Forkopimda setempat. Pengundian perama untuk masing-masing cabang senilai Rp. 100 juta dan Rp. 50 Serta seluruh pemilik rekening simpeda masih berpeluang mendapatkan grand prize Rp. 500 juta yang akan diundi pada gemerlap hadiah undian simpeda pada
19 November 2017 di Surabaya.
Dalam sambutannya, Direktur Utama bankjatim R. Soeroso menyampaikan bahwa tujuan dari undian simpeda ini merupakan apresiasi bankjatim kepada para nasabah, khususnya nasabah tabungan Simpeda. "Tahun 2017 lokasi pengundian hadiah tabungan Simpeda diadakan di Bondowoso, Bojonegoro, Pamekasan, Ponorogo, Blitar, dan Surabaya", tambah R. Soeroso.
Bagi nasabah yang ingin mengikuti undian Simpeda, cukup dengan melakukan pembukaan rekening tabungan Simpeda di bankjatim terdekat di kota anda. Dengan minimal saldo Rp 1 juta dan telah mengendap selama satu bulan takwin, berlaku kelipatan, maka anda berkesempatan mendapatkan nomor undian simpeda. Nasabah tabungan simpeda bankjatim selain dapat mengikuti undian Simpeda juga dapat menikmati fasilitas e-channel bankjatim (ATM, Sms banking, internet banking, mobile banking) untuk kemudahan bertransaksi dimanapun dan kapanpun