East Java Governor Inaugurates Foreign Exchange Pendulum Village Assisted by Bank Jatim
Date: 30 may 2023
Categories :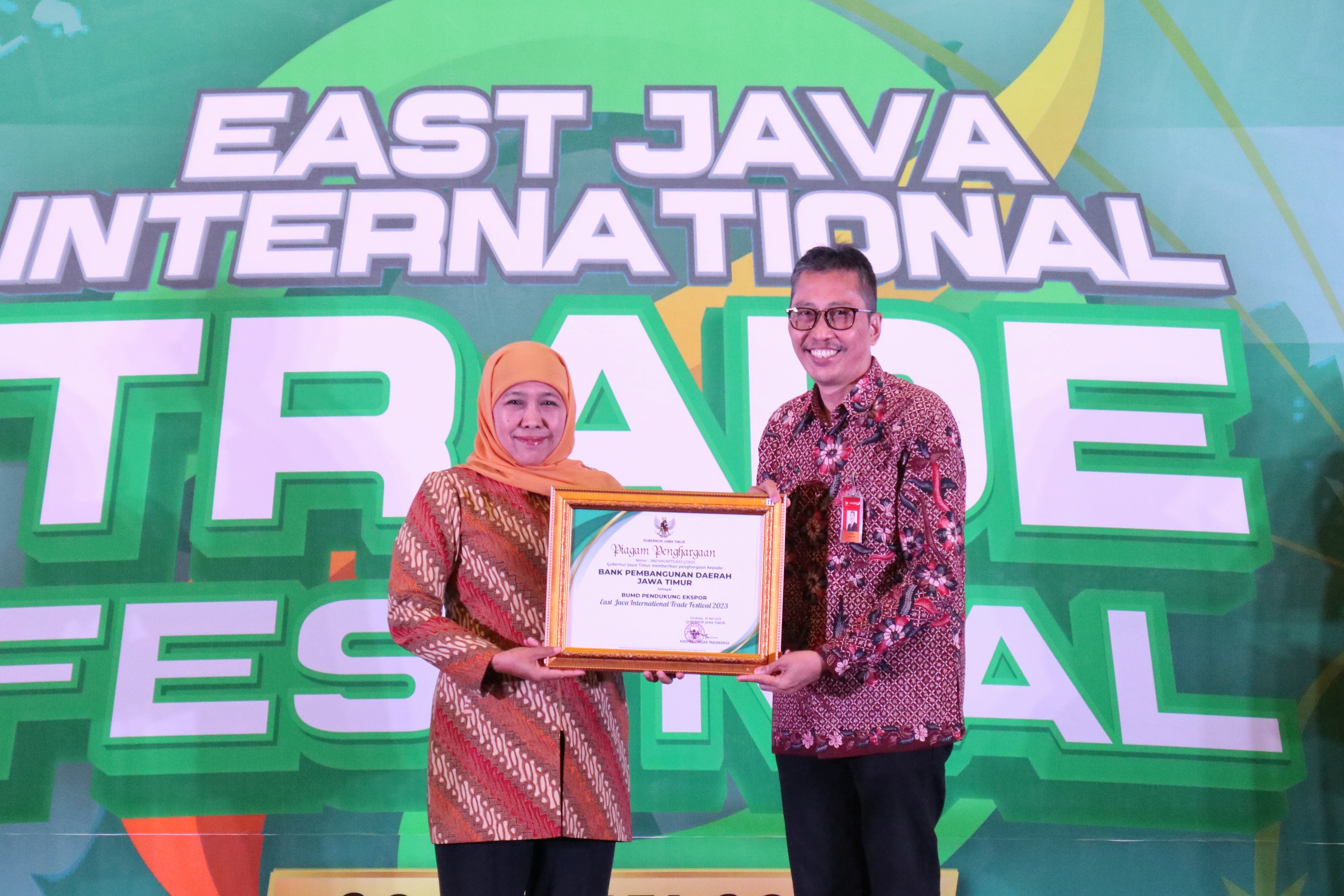 SURABAYA, May 30, 2023. In an effort to improve the performance of foreign trade in East Java, the Department of Industry and Trade of East Java Province organized the East Java International Trade Festival on 30-31 May 2023. Located at Grand City Mall and Convex Surabaya, the event was opened directly by East Java Governor Khofifah Indar Parawansa and also attended by bankjatim President Director Busrul Iman.
In a series of events opening the East Java International Trade Festival, bankjatim successfully received an award from the Governor of East Java as an Export Supporting BUMD. In addition, on the occasion, Khofifah also inaugurated the Three Foreign Exchange Pendulum Villages Assisted by bankjatim.
The three villages include Blitar Chocolate Village with processed chocolate commodities, Ngindeng Village, Ponorogo Regency which is coordinated by PT Enha Sentosa Indonesia with ginger commodities, and Trayang Village, Nganjuk Regency which is led by PT Astana Shoga Asia with ginger commodities.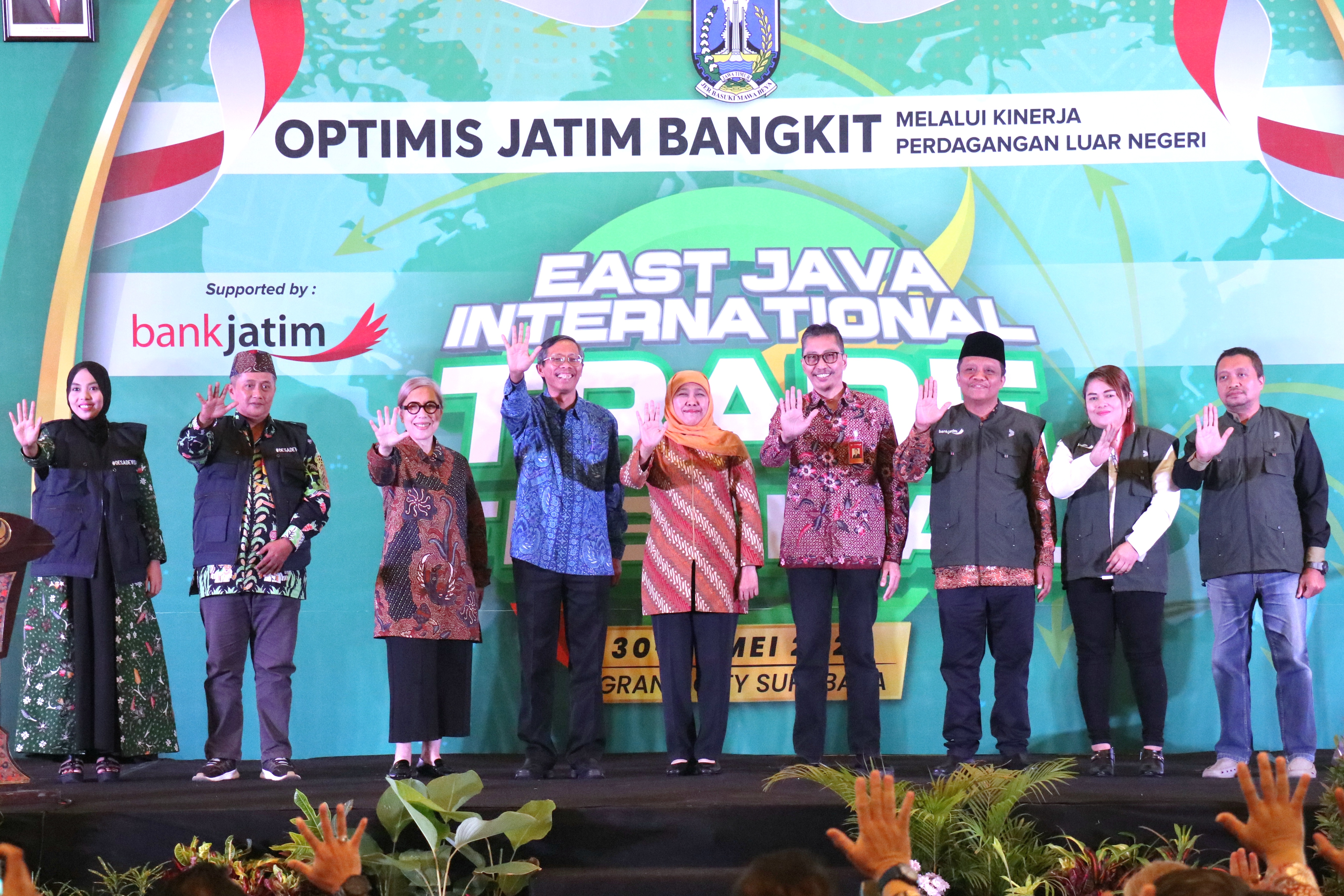 .
Busrul explained, during this time bankjatim indeed continue to encourage potential customers to export. Because, with exports can open many jobs, develop domestic industries, train themselves to compete in the international market, and most importantly can increase foreign exchange.
"We must aggressively open new market opportunities abroad, grow investment, and expand the scope of the domestic market. That way, all our local products can be upgraded," he explained.
The form of support that has been done by bankjatim in supporting exports is quite a lot. In addition to providing assistance in terms of capital financing, issuers with the BJTM code also have remittance transaction facilities, Domestic Documented Credit Letters (SKBDN), and Letters of Credit (L/C) for customers who will export.
"We also foster Foreign Exchange Pendulum Villages because it is undeniable that East Java has many promising commodities to be developed. The market potential is also very large, both at home and abroad. So this must really be maximized," said Busrul.
According to him, the existence of this foreign exchange pendulum village can improve the welfare of the community and the competitiveness of commodities produced by a region because they are really assisted and given training. So that the commodities produced can meet the quality and quantity according to the standards and export needs.
Busrul continued, bankjatim is also ready to fully support all customers to develop business. Especially for customers who have exported. "We will definitely encourage them to explore foreign markets because of the big impact on the economy," he said.
On the other hand, Khofifah thanked all stakeholders, including East Java exporters. This is because they have all contributed to driving the economy in East Java through products that have been produced and marketed to foreign countries.
"Thank you because with our mutual cooperation, foreign exchange villages and foreign exchange village pendulums can be born. If later those who are included in this foreign exchange village can develop into exporters, of course it will provide even greater benefits to the economy. We will continue to encourage East Java exports to be even more vibrant," he said.