commitment & responsibility bank jatim toward development of micro business
Date: 18 march 2013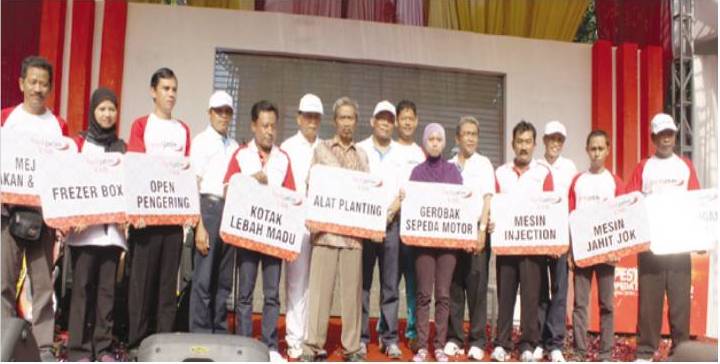 With a mission to encourage economic growth and participate develop local small and medium enterprises, BANK JATIM is committed to gives financial solutions to all our customers and the community in developing a productive business, especially within the SME sector. BANK JATIM is very focused on the development of the economic actors. With the slogan "bersama kami berkembang pasti" efforts have been put together, so that they are able to develop their business to a better level.
Bank Jatim realize that SMEs play an important role to the economic progress of the nation, especially for the region Jatim
growth in this sector better and make a major contribution to the GRDP Jatim. Approximately 15% from total number of national GRDP came from East Java. In 2012, East Java's economy grew about 7.3%, growing faster than the national economic growth which is only 6.5%. The potential for economic growth and SMEs in East Java which is the flagship business targets BANK JATIM in developing a business through lending to MSME entrepreneurs through schemes such as the People's Business Credit (KUR), Credit Pundi Kencana, Laguna Microfinance, Food Security and Energy Credit (CTF-E), Cattle Breeding Business Credit (KUPS), and RB Linkage Program
In line with the aim to become a BPD BANK JATIM Regional Champion in 2014, efforts were made ??not only to develop and maintain business continuity but also give attention and care to the communities is one focus of the BANK JATIM. Through program of Corporate Social Responsibility (CSR), BANK JATIM as a public company is to contribute sustainable for stakeholders, the public, or the environment. Because the the Bank's business is inseparable from the role of Jatim community, therefore the Bank Jatim need to get involved further. BANK JATIM's commitment to implement several programs aimed at the welfare of society and the improvement of the environment particularly through the fields of education, culture, health and other social services.
In the Year 2012, the BANK JATIM gives support amounting CSR Rp.13 billion allocated appropriate fields have been established, such as the education sector is allocated to scholarships for underprivileged students, providing a means of supporting education, and the provision of banking education to the community. In the field of culture are allocated to support the staging / organizing arts and providing equipment and sports coaching to the students and youth. While CRS ??aid in the health sector was allocated to address the eradication of certain diseases in the community, providing a means of supporting public health, and other activities in order to improve public health. Then in other social fields allocated to target aid to religious objects, donation, conservation of nature and the environment, and the development of infrastructure and other public facilities.
Business BANK JATIM is the focus to future to develop the SME sector and improved service to the public, customers and the environment around the company. Through the help of CSR, also given to SMEs in order for them to grow and become the foundation of economic development in East Java. To support the growth of SMEs, BANK JATIM honoring SMEs Patronage Partners BANK JATIM were considered successful in developing a business. Among the 38 selected SMEs, elected 10 SMEs are considered eligible and entitled to prizes and awards from the BANK JATIM in the form of tools to support relief efforts, such as
Family Food Bank assisted partners Gresik Jatim branch engaged in the manufacture of frozen food made ??from sea food receive assistance freezer box.
SMEs Caesar Car Interior, BANK JATIM branch partners Jember, receive assistance in the form of two (2) leather sewing machines and 1 (one) unit generator type 5900/2500 watts.
Ud Pribumi is a partner of BANK JATIM branch Probolinggo engaged in the business of manufacturing and distribution storefront, mob, pans get assistance 1 (one) unit motorcycle tricycle
UD Cipta Rasa dealing in plastics processing at Tulungagung district receive assistance 1 (one) unit of machine Injection Molding Machine
Batik Saji, BANK JATIM branch Pacitan partners get assistance in the form of tools for batik
Production sandals "Orlando" partner BANK JATIM branch of Sharia receive assistance sewing machine shoes
UD Tino Masda Madu BANK JATIM branch Pare partners moving at cultivation of honey, receive assistance in the form of 100 (one hundred) box honey and 2 (two) honey extractor unit needed to extract the honey from hive.
Cassava Chip Production Iwan Atmaja BANK JATIM branch Kepanjen partner receive assistance in the form of 1 (one) unit open dryer
UD Hariadi Sabar BANK JATIM branch Mojokerto partners receive assistance one (1) set of tools planting.
Tofu manufacturing industries owned by Mr. H.Fadeli Bank Jatim Branch Bawean partners receive assistance 1 (one) unit soybean grinding machine.
For the year 2013, in addition to CSR Fund will be given to areas of culture, health, and other social, Jatim Bank will also continue to assist SMEs through CSR funds, so that SMEs can become more independent and competitive.
President Director of Bank Jatim Sukrianto Hadi said, the providing assistance is expected to develop the morale and productivity of SMEs partner BANK JATIM, and East Java's economy forward movement is increasing. "Hopefully our commitment and responsibility towards the development of micro-businesses provide benefits, and we can continue to maintain the productivity and performance of the company remains well that can gives ongoing contributions to society and the environment to the future," please Hadi.