Bank Jatim Submits Grand Prize Toyota Fortuner
Date: 22 december 2014
Categories :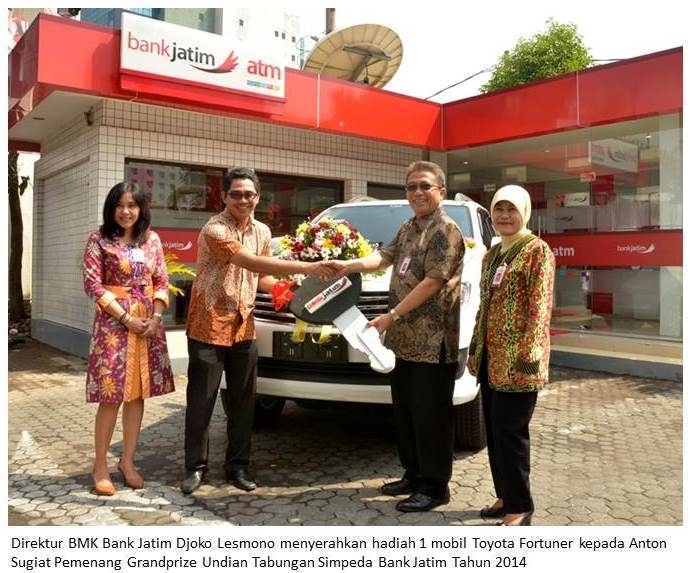 The drawing of Simpeda Savings bankjatim Regional level in 2014 has been completed. The draw with a grand prize Toyota Fortuner ended simultaneously with the peak of the event bankjatim Jazz Traffic Festival 2014 at Grand City convex on (23/11) ago. Anton Sugiat, customer bankjatim Main Branch Surabaya was selected as the lucky winner of the Grand Prize.
After doing and meet all administrative processes the handover prize, on Friday (19/12) at the parking area bankjatim Main Branch Surabaya, bankjatim represented by the Director of Medium Business and Corporate Djoko Lesmono officially handed over the prize to the winner.
"Congratulations to the winner, I hope that prize has been obtained provide benefits and increase loyalty and allegiance to bankjatim, "said Djoko Lesmono.
The Drawing Simpeda Savings bankjatim drawn 3 times in a year, with details1 time draw the regional level and 2 times draw the national level with a total prize of Rp 12 billion.
Immediately open the Simpeda savings bankjatim that provide benefits a wide range of facilities and advantages for the ease and convenience of banking transactions (cap)