Bank Jatim Raih TOP BUMD Tiga Tahun Berturut-turut
Date: 29 april 2019
Categories :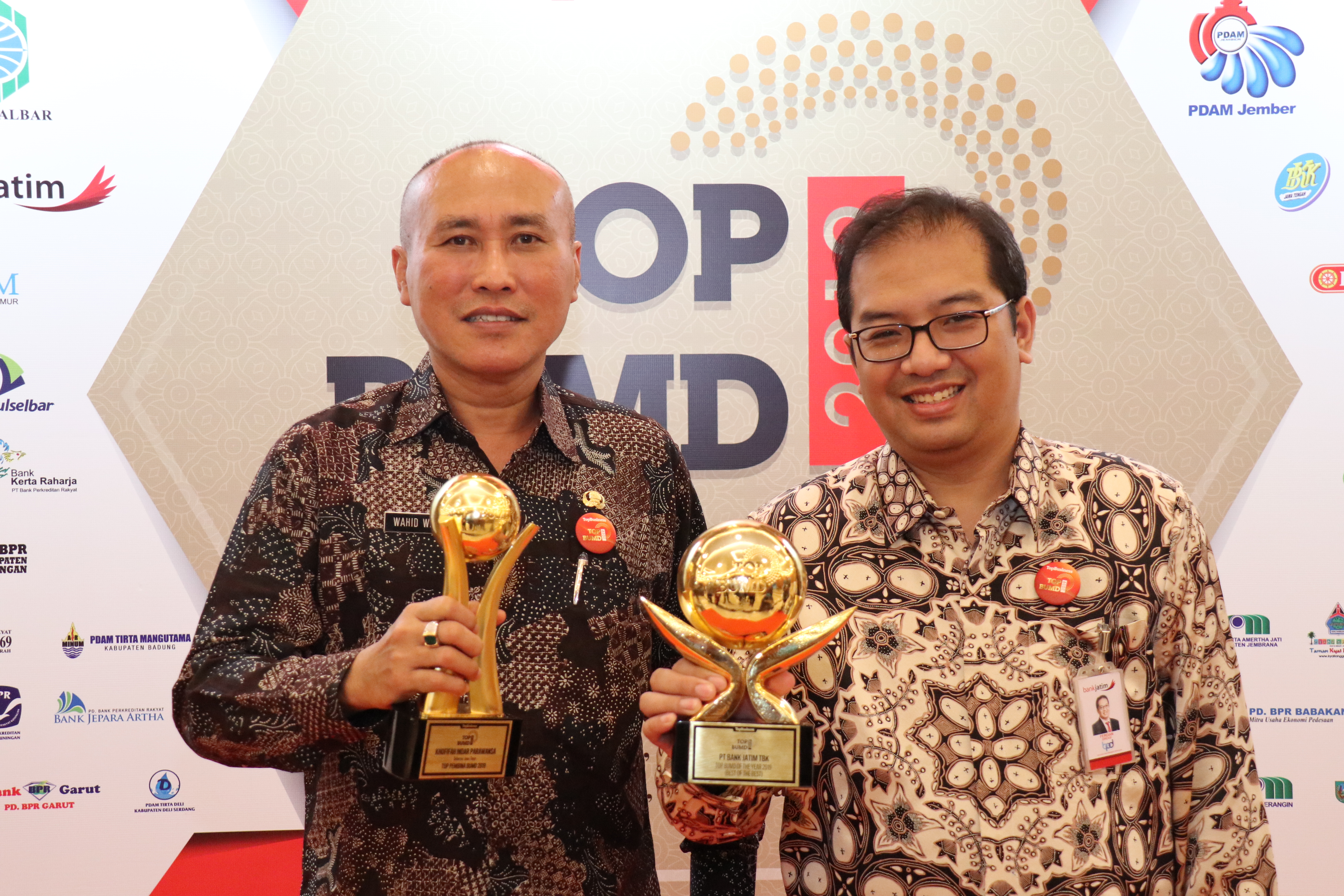 JAKARTA 29 April 2019 | Bertempat di Golden Ballroom-The Sultan Hotel Jakarta, bankjatim torehkan prestasi dalam ajang TOP BUMD Award 2019. Acara yang dihadiri oleh beberapa Menteri dan beberapa Kepala Daerah di Indonesia ini bertujuan untuk membangun daerah-daerah di Indonesia dan mempromosikan potensi sektor unggulan dari daerah masing-masing di seluruh Indonesia.
Dalam acara penganugerahan yang bertajuk "BUMD Membangun Ekonomi Daerah Yang Berkelanjutan" ini dihadiri oleh Direktur Keuangan bankjatim Ferdian Timur Satyagraha. Bankjatim berhasil meraih penghargan kategori TOP BUMD of The Year 2019, Top BUMD Best All Criteria 2019, Top BUMD BPD 2019, TOP CEO BUMD 2019. Kali ini bankjatim berhasil menyisihkan 162 peserta BUMD lainnya. Dalam acara yang sama, Dewan Juri juga memberikan penghargaan kepada Gubernur Jawa Timur Khofifah Indar Parawansa dalam kategori Top Pembina BUMD Award yang diwakilkan oleh Asisten Perekonomian dan Pembangunan Sekdaprov Wahid Wahyudi.
Ferdian bersyukur atas penghargaan yang diterima bankjatim pada malam ini.  "Hal ini menegaskan bahwa bankjatim terus menunjukkan komitmennya dalam berperan serta meningkatkan pembangunan ekonomi daerah secara berkelanjutan." Terang Ferdian.. Bank Jatim juga berterimakasih atas support yang telah diberikan oleh Ibu Gubernur Khofifah Indar Parawansa selama ini. "kami berharap sinergi antara bankjatim dan Pemerintah Provinsi  Jawa Timur tahun ini dan selanjutnya terus terjalin dengan baik demi pembangunan ekonomi daerah yang berkelanjutan" imbuh ferdian
Dewan Juri TOP BUMD Award 2019 yang diketuai oleh Prof. Dr. Laode M. Kamaluddin MSc. MEng menjelaskan, bahwa kriteria TOP BUMD of the Year 2019 adalah BUMD yang memiliki kinerja terbaik dan yang relevan dengan tema TOP BUMD, yakni "BUMD Membangun Ekonomi Daerah Yang Berkelanjutan:". "Jadi, Kalau hanya berkinerja terbaik saja tetap tidak dapat menjadi BUMD of the year, namun BUMD tersebut harus relevan dengan tema TOP BUMD 2019", tegas Laode.
Tiga tahun berturut-turut, bankjatim dan Pemerintah Provinsi Jawa Timur saling berdampingan dalam menerima penghargaan TOP BUMD Award. Hal ini menunjukkan adanya relevansi antara kinerja bankjatim dengan pembangunan ekonomi daerah Jawa Timur yang berkelanjutan.
Penghargaan yang diterima menegaskan keberhasilan bankjatim di tahun 2018 yang menunjukkan kinerja luar biasa. Bankjatim mencatatkan pertumbuhan total aset sebesar Rp. 62,69 T (YoY 21,68%), DPK sebesar Rp. 50,92 T (YoY 27,78%)  yang didominasi dana murah dengan CASA 75,41 %, kredit sebesar Rp.33,89 T (YoY 6,74%) dan Laba sebelum pajak sebesar Rp. 1,75 T (YoY 7,13%).
Rasio keuangan bankjatim posisi Desember 2018 lebih baik dibandingkan tahun sebelumnya, antara lain Return on Equity (ROE) sebesar 17,75 %, Net Interest Margin (NIM) sebesar 6,37 %, Return On Asset (ROA) 2,96 % , sedangkan Biaya Operasional dibanding Pendapatan Operasional (BOPO) masih tetap terjaga di angka 69,45 %. Hal ini menunjukkan bankjatim  menjadi salah satu bank dengan efisiensi yang baik.
Sebagai peusahan terbuka, saham bankjatim (BJTM) sebagai salah satu saham favorit pilihan masyarakat dengan market capitalization BJTM mencapai Rp. 10,33 Triliun di akhir tahun 2018. Tahun ini bankjatim membagikan dividen sebesar Rp. 45,61 per lembar saham kepada pemegang saham melalui keputusan Rapat Umum Pemegang Saham Tahunan (RUPST) Tahun Buku 2018 beberapa waktu yang lalu (26/04).
SEKILAS TENTANG BANKJATIM
bankjatim merupakan Bank Umum yang berkantor pusat di Surabaya dan telah memiliki jaringan di seluruh Jawa Timur, DKI Jakarta dan Kota Batam. Didirikan 17 Agustus 1961, dengan berbadan hukum Perusahaan Daerah (PD), pada tahun 1976, bankjatim berubah status menjadi Badan Usaha Milik Daerah (BUMD). Dan sejak Juli 2012 bankjatim melakukan Penawaran Umum Perdana Saham atau Initial Public Offering (IPO) yang menjadikan bankjatim menjadi salah satu Bank Pembangunan Daerah yang sudah terbuka (Tbk.)
Sampai dengan Maret 2019 bankjatim memiliki total layanan sebanyak 1.706 layanan operasional, baik layanan konvensional maupun syariah. Bankjatim saat ini telah memiliki layanan e-banking seperti ATM, Sms banking, Internet Banking, Mobile Banking dan yang terbaru adalah fitur jatimcode untuk memberikan kemudahan kepada nasabah bertransaksi dimanapun dan kapanpun berada. Selain telah bekerjasama dengan jaringan ATM Bersama dan jaringan Prima (termasuk Prima Debit), yang terbaru, bankjatim telah bergabung dalam Gerbang Pembayaran Nasional (GPN) yang berarti kartu ATM bankjatim dapat digunakan pada seluruh ATM dan merchant di Indonesia yang berlogo ATM Bersama, Prima dan GPN tanpa dikenakan biaya apapun.
PT BANK PEMBANGUNAN DAERAH JAWA TIMUR Tbk
Jl. Basuki Rahmat 98-104 Surabaya
CORPORATE SECRETARY
E : corsec@bankjatim.co.id
T : (031) 5310090-99 ext 471