Bank Jatim Appointed as Hosted Socialization Transformation BPD
Date: 08 september 2015
Categories :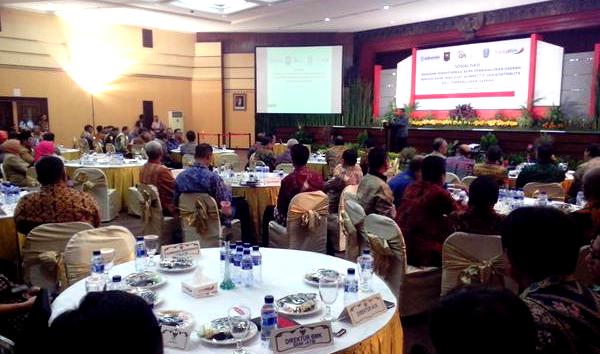 After officially launched by the President of the Republic Indonesia Joko Widodo on May 26, 2015 Transformation Program Regional Development Bank (BPD) now has entered a phase of socialization. Located at the Head Office bankjatim (7/9), bankjatim trusted as host on the socialization of Transformation BPD
With the theme "Socialization Transformation Programme Regional Development Bank becomes the Bank strong, competitive and contributive for Regional Development", This working meeting also invited high-ranking officials in East Java ranging from the Governors, Regents and Mayors of East Java, and the Chairman of Parliament
Districts and cities in East Java.
As a joint program of the Financial Services Authority (OJK), the Association of Regional Development Bank (Asbanda) and the Ministry of Interior, Transformation Program BPD is expected to make BPD throughout Indonesia to be a leader in their area and as the largest group banks, the best and strongest in the national banking industry.
In order to realize the BPD as Bank Strong, Competitive and contributive for Regional Development then stipulated six strategies in the transformation of this BDP to be able to improve the effectiveness of overall business processes BPD including Product Development, Management Services, Marketing Development, Network Management, Portfolio Management, and Strengthening Liquidity and Capital.
The sixth strategy will be developed, coordinated and synergized by the Strategic Group BPD so as to create the efficiency and effectiveness of business and risk management both at Group level and in each BPD. Each BPD incorporated in the Strategic Group BPD remain independent, but synergize in the development and platforms (systems) business operations.
President Director bankjatim R Soeroso said efforts has made by the government in transforming the BPD becomes one of the banks which have the power in the national banking industry should be appreciated and fully supported by the entire human BPD in Indonesia.
"It is time to rise up and show the existence of BPD,with this transformation is expected throughout the BPD is able to work together, unify the vision and mission to provide the best not only for the region but more than that for the advancement of the national economy, "said Soeroso..
Hopefully, by the socialization Transformation of BPD may improve the understanding and support of all stakeholders, especially the Board of Commissioners and Board of Directors of BPD throughout Indonesia as well as Local Government and Parliament in the implementation of program transformation BPD be able to walk continuously and realized effectively in accordance with the roadmap and plans have been drawn up
In the application of this BPD transformation, Asbanda has formed five Workstream Transformation including Strategic Group BPD, Human Resource Development, Product Development and Services, Improved Governance and Risk Management and Technology Development and Management of Information Systems. Workstreams transformation of BPD are organized guidelines (blueprint) as well as an implementation plan for each field.
For the bankjatim active involvement in the success of this BPD Transformation program is a commitment of the work program under the leadership of Soeroso which strongly supports the efforts of synergy between institutions so that economic growth and development can be realized well. (pr/med)