Bank Jatim Distributes Jatim Retail Loans in Kampoeng Kreasi Activities
Date: 01 june 2023
Categories :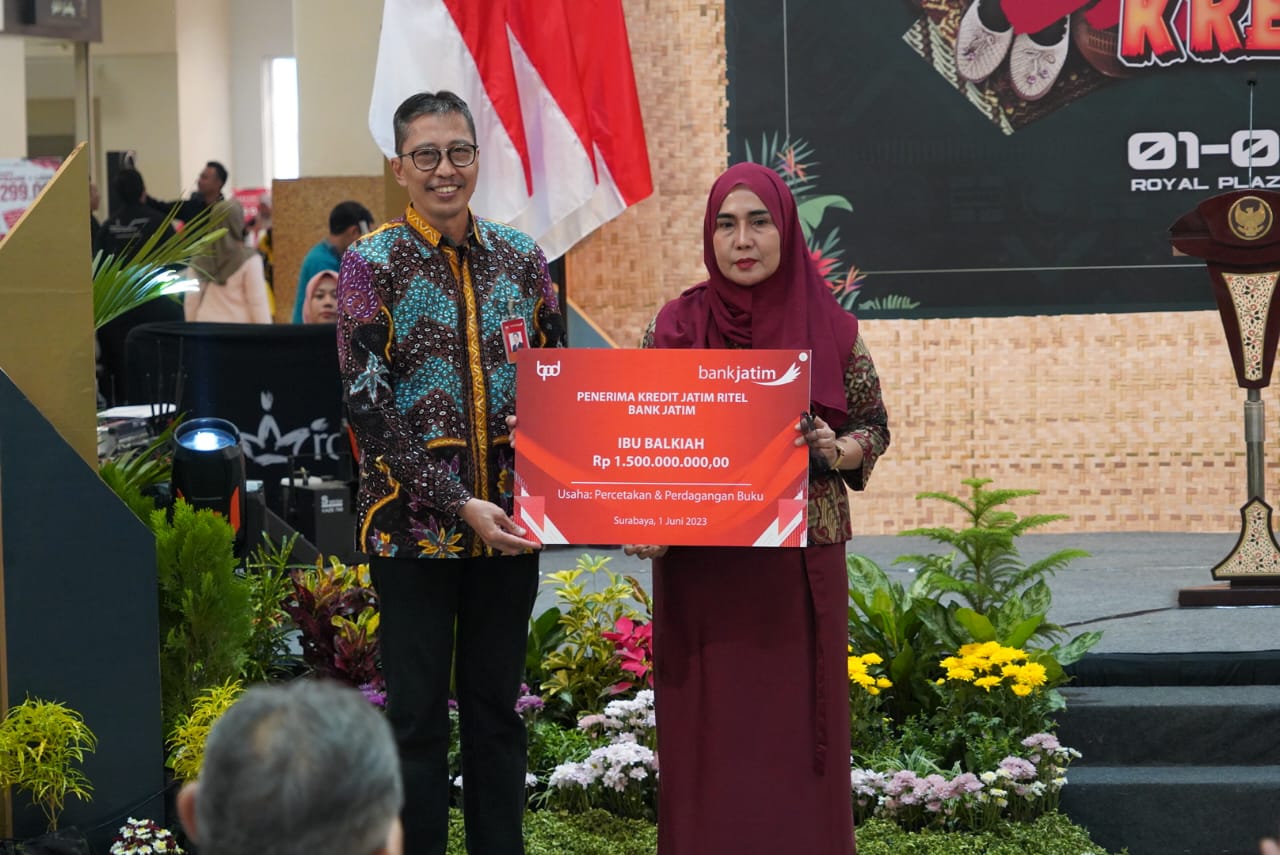 SURABAYA, June 1, 2023. PT Bank Pembangunan Daerah Jawa Timur Tbk. or bankjatim continues to show its support for the work program of the Provincial Government (Pemprov) of East Java. After providing guidance to the Foreign Exchange Pendulum Villages in Blitar, Nganjuk, and Ponorogo, bankjatim is now taking action in distributing Jatim Retail Credit to one of its customers in the "The 4th Kampoeng Kreasi" activity organized by the East Java Provincial Government at Royal Plaza, Thursday (1/6).
The delivery of Jatim Retail Credit to one of its customers in the "The 4th Kampoeng Kreasi" activity organized by the East Java Provincial Government at Royal Plaza, Thursday (1/6).
As for the submission of the Jatim Retail Credit was carried out directly by bankjatim President Director Busrul Iman to Balkiah amounting to Rp 1.5 billion and witnessed by East Java Governor Khofifah Indar Parawansa who was also present at the activity. Balkiah is one of bankjatim's debtors who has a business in the field of book publishing and trading.
Busrul said, Jatim Retail Credit is a financing product owned by bankjatim which consists of Jatim Retail Current Account, Jatim Retail Working Capital, and Jatim Retail Investment. "Incidentally, today bankjatim handed over the Jatim Retail Investment credit to Mrs. Balkiah, who is our debtor engaged in the publishing and trading of books," he explained.
According to Busrul, the credit distribution is one of bankjatim's efforts to support the Kampoeng Kreasi program in order to strengthen the empowerment of rural communities towards Optimistic East Java Rise. This is because the issuer with the BJTM code has a commitment to continue to support government programs, especially in order to expand access to financing to productive businesses, increase the competitiveness of MSMEs, and encourage economic growth and employment.
"We will finance sectors that can become engines of economic growth through lending so that they can accelerate the national economy, especially the East Java region," he said. With the lending, bankjatim hopes to increase credit which until the first quarter recorded 48 trillion or grew 13.44% year on year (YoY).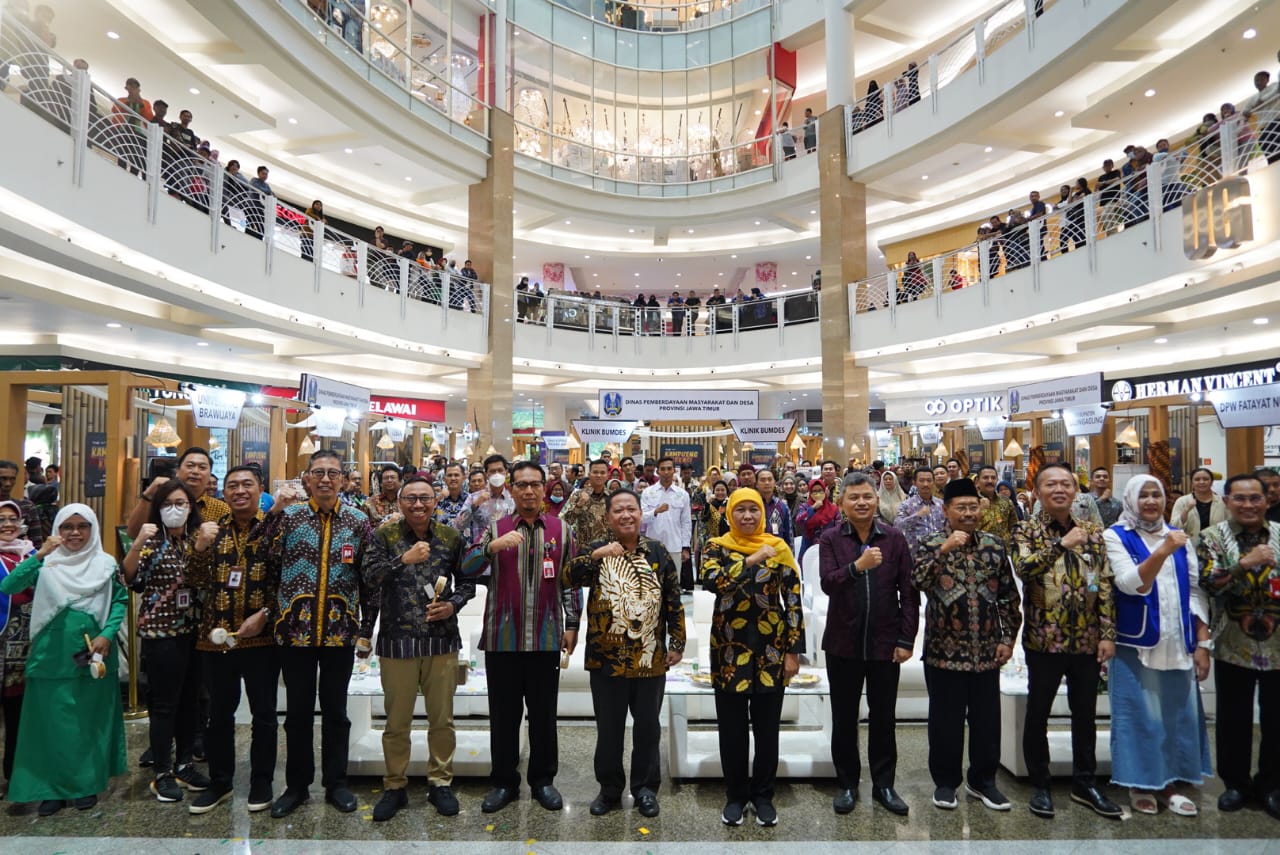 In addition, Busrul also said, as an effort to provide easy access to financing to the community, bankjatim already has a digital platform called JConnect E-Loan which can be downloaded on the playstore and app store. During the first quarter of 2023, JConnect E-Loan has been accessed by 8,800 credit applicants and has given credit approval to 6,400 debtors.
"Meanwhile, on the occasion, Khofifah also said that currently the East Java Provincial Government is aggressively accelerating foreign exchange villages. Noted, until now there have been 102 foreign exchange villages in East Java that have had a decree from the Indonesian Export Development Institute (LPEI). "We really hope that the participants who take part in the Kampoeng Kreasi activity have products that can access the LPEI program so that later they can get assistance from LPEI when the qualifications of the foreign exchange village are met," he explained.
According to the number one person in East Java, the potential of villages in East Java that have various uniqueness in them is very large. So that not a few can actually be used as foreign exchange villages. For example, villages producing coffee, chocolate, and many more. "Therefore, we must be united in making efforts and synergy to realize the acceleration of foreign exchange villages and carry out more strategic development in terms of creativity and innovation for product development in each village through kampoeng kreasi," said Khofifah.