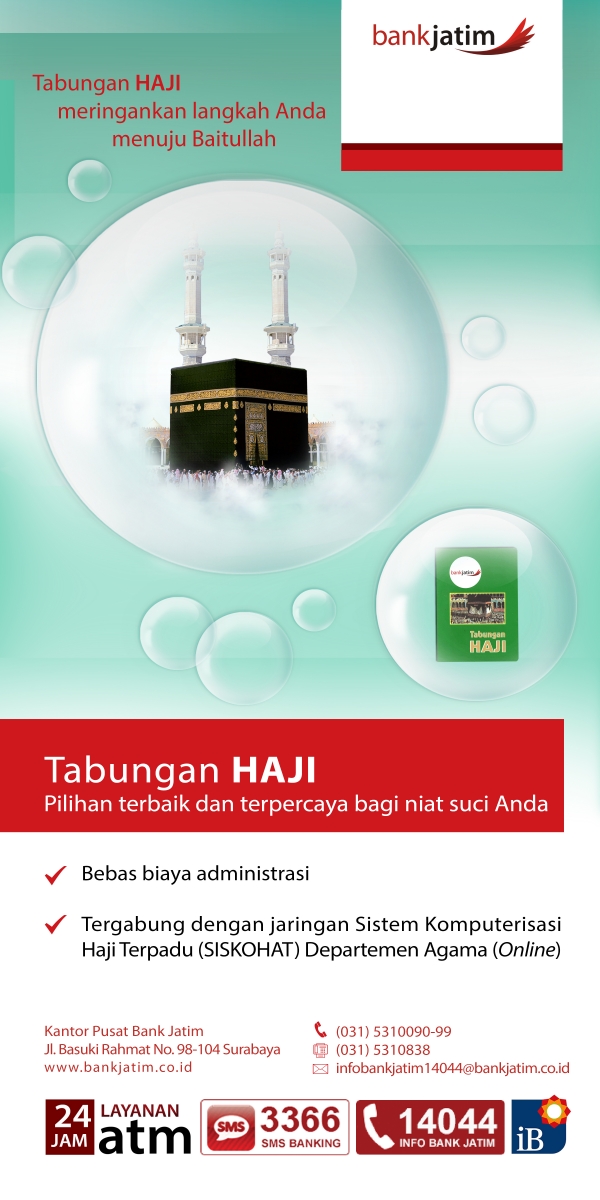 With Hajj Saving Bank Jatim, your courage and welcome the divine summons to the holy land of Mecca Al Mukaromah more stable. Hajj Savings Bank Jatim also provides convenience and secure feeling in the hearts. "Very few people are able to fulfill the divine call to in the hearts, then indeed blessed are those who are among those few."
Facility
Deposit can be made across the whole Branch Office / Branch / Cash Office, which is already online
Bank Jatim has already joined the online network Hajj Integrated Computerized Systems (Siskohat) under Religion Ministry
Priority to follow the Hajj program if the savings balance has met the appropriate conditions which are set by the Ministry of Religious Affairs.
Interesting souvenir provided to the customer
Benefit of the services will be provided at the time the customer follows the Hajj program
Free monthly administration fee and closing accounts
REQUIREMENTS
Fill out the form of customer data (CIF)
Fill out the form of savings account
Submit the copy of identity (ID card, driving license, passport/other)
Minimum initial deposit of Rp100.000,00
Hajj Savings can't withdrawn at any time
Terms, conditions/for more information about our products, please contact Info Bank Jatim 14044 or visit branch offices Bank Jatim. "Insha Allah your dream come true and soon you become Mabrur Hajj."